Kitchen Remodel Sunfish Lake MN
Get a Custom Kitchen Remodel Completed by Professionals in Sunfish Lake, MN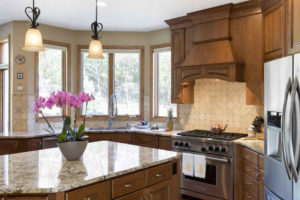 The decision to undergo a kitchen remodel isn't something you arrive at lightly. It's no secret that there's a bit of a time commitment and money involved in getting a kitchen remodel, so if you're planning to have one done at your home in Sunfish Lake, Minnesota, you'll want to take your time to research the local remodeling companies to determine which has the skills and experience necessary to provide you with the kitchen of your dreams.
Trust Ohana Home & Design
Local homeowners who want the most from their remodeling projects turn to Ohana Home & Design. Our design-build firm has gained an exceptional reputation for providing the highest quality luxury remodels, and we would be pleased to make you part of our ohana (the Hawaiian word for family) and provide you with a new kitchen that you will enjoy for many years to come.
Our Process
At Ohana, we want to make the remodeling process as fun and as simple as possible for our clients. That's why we'll handle the scheduling, coordinating, and building aspects of your kitchen remodel while you give us whatever input you'd like for the design. You'll be able to pick out the countertops, cabinets, fixtures, and any other components of your kitchen that you'd like. Then our talented designers will get to work bringing your vision to life. Once you've approved the design, our experienced craftsmen will build your new kitchen with the utmost care and precision. You can trust that from our very first consultation to the final walkthrough, we will provide you with a remodeling experience that is second to none.
Contact Ohana Home & Design today to learn more about why we are the ideal company to handle the kitchen remodel in your Sunfish Lake, MN, home.