Upgrade the Kitchen Cabinets, Counters, Flooring, and More in Your Eagan, MN, Home with Ohana Home & Design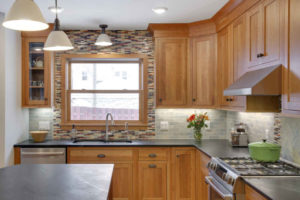 Tearing out kitchen cabinets and replacing them with new ones can certainly give your kitchen a facelift, but typically you will also need to update the other elements of your kitchen, along with the cabinets, to make it look cohesive and modern. Ohana Home & Design is a design build company serving the Eagan area that can provide you with a kitchen remodel that will give you updated cabinets, countertops, lighting, appliances, and more to ensure that your new kitchen not only looks incredible, but also is designed specifically for your lifestyle.
Custom Renovations Using Premium Products
Ohana Home & Design chose the Hawaiian word for "family" as our company name because, in addition to being family-owned, we treat all of our clients like family. This means only installing premium products that we would want in our own home. The kitchen cabinets and other materials we install are not only gorgeous, but also durable and long-lasting, unlike builder-grade materials that will start to deteriorate within a year or so. This means you will likely enjoy your new kitchen for the rest of the time you own your home.
The Ohana Home & Design Difference
We go above and beyond to make the process of working with us as simple and easy on our clients as possible. Some of the advantages of working with us include:
We are a design build firm, so our designer will work with the construction project manager to ensure that your proposed design is feasible before construction begins.
You will have the opportunity to provide input and have final say on the design and materials used.
We provide complete transparency from start to finish, including detailed estimates and frequent meetings on your project, scheduled at your convenience.
If you'd like to see some examples of the kitchen cabinets we install and get some inspiration for your new kitchen, you can stop by our showroom near Eagan. You can also contact us today to speak with someone regarding the scope of your project and to schedule an in-home consultation.