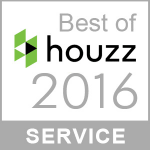 Ohana Home & Design Receives 'Best of Houzz' for the Third Year in a Row!
Posted on
Ohana Home & Design is proud to announce that we have been awarded 'Best of Houzz 2016' for customer satisfaction by Houzz, the leading platform for home remodeling and design. Ohana, the family owned and operated company was chosen by the more than 25 million monthly unique users that comprise the Houzz community from among more than 500,000 active home building, remodeling and design industry professionals. Thank you to all of our incredible clients and colleagues and their reviews for making Ohana 'Best of Houzz' three years in a row! View our Houzz profile here!
This entry was posted in Recognition. Bookmark the permalink.